Wahahaha..1st tag dari kawan baru aku,

Roy Fatul

..hehehe.. herm.. tag ni memang macam tau2 je la.. last nite, I bought my new wallet la.. What a coincidence! kihkihkih..
1. Snap the picture of both inner and outer of your wallet
2. Introduce your wallet brand, price, and where you bought it
3. Take out what ever is inside your wallet (at least 5 pictures)
4. Snap a picture of your wallet with yourself
5. Tag other 5 persons
My Wallet
hehehe.. semalam waktu jalan2 dengan family kat Alamanda, aku memang shopping sakan.. maklumlah tengah

SALE

! aku bukan jenis

shopaholic

sgt..tp time sale memang aku tak lepaskan peluang.. tambah lagi dapat duit bonus dari ayah.. hik3.. waktu masuk Parkson, aku tengok ade wallet sale sampai 50% - 70%.. so aku grab satu la.. hik3
Brand =

Forest Timber

(jenama biase2 je)

Price =

RM 35.00 (after 50%)

Bought at =

Parkson, Alamanda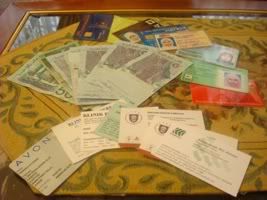 ahaa.. ape ade dalam wallet? Macam biase la kad pengenalan,lesen memandu, kad bank, kad-kad org bagi, kad Hijau (CIDB member) and duit.. Duit aku da tinggal bape je.. da siap shopping smlm.. ekekeke..
I want to tag these 5 special persons..muahaha
LIQUID